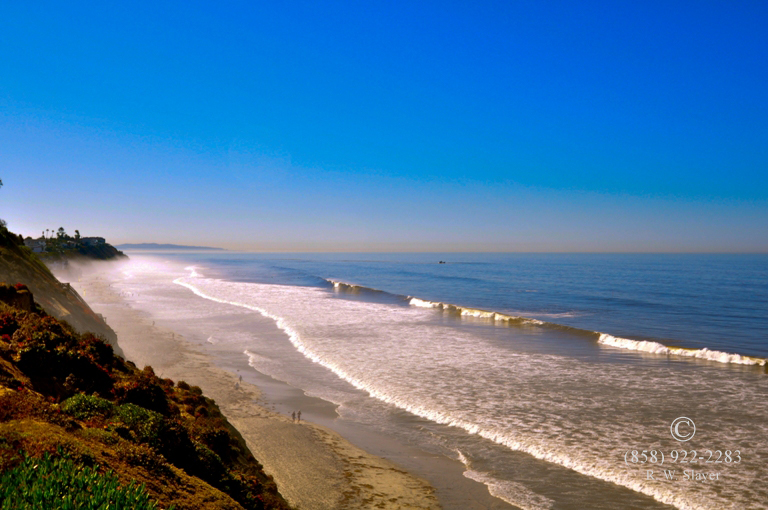 Encinitas is a coastal beach city in San Diego County, California. Located within Southern California, it is approximately 25 miles (40 km) north of San Diego in North County and about 95 miles (153 km) south of Los Angeles. As of the 2010 census, the city had a population of 59,518, up from 58,014 at the 2000 census. Encinitas is known for its mild climate and surf scene. The largest single industry in the city is the growing of ornamental flowers, particularly poinsettias.
The city was incorporated in 1986 from the communities of historic Encinitas, new Encinitas (Village Park, etc.), Leucadia, Cardiff-by-the-Sea and Olivenhain. These communities retain their identities and their distinctive flavors.
Encinitas can be divided into five areas:
Old Encinitas: a small beachside area featuring a mix of businesses and housing styles. The Encinitas welcome arch is located here. Old Encinitas is split from New Encinitas by a low coastal ridge.
New Encinitas: a newer region which features golf courses, many shopping centers, and composed of larger tract homes.
Olivenhain: a semi-rural region in eastern Encinitas, composed of mostly single family homes and an active 4-H Club.
Leucadia: an older community of the city. Leucadia features tree lined streets and boulevards. The community features art galleries, unusual stores, and restaurants, along with single family homes.
Cardiff-by-the-Sea: Encinitas' southernmost oceanfront community, which features streets named after British cities and classical composers, the Lux Art Institute, famous surf break Swamis and the San Elijo Campus of Mira Costa College.
Source: Wikipedia
Helpful Links
City of Encinitas Government Website
San Diego Unified School District